Introducing the New Artray Hybrid series !
* New ! The latest Picture in Picture (PIP) technology
* Infrared + visible light images = identify targets clearly !
* Easy viewing modes – switch among picture in picture, full IR thermal, and blend visual and thermal images.
* Fast Temperature measurement – only one click !
Sample images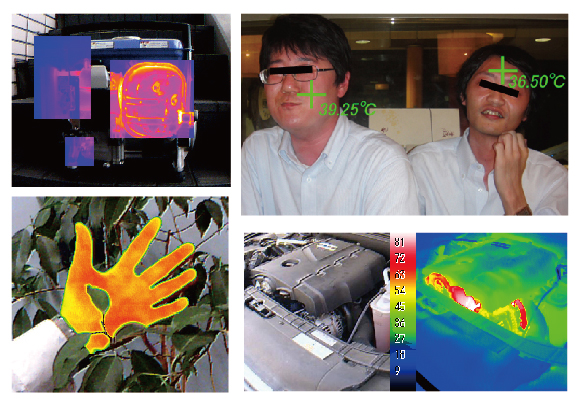 ARTCAM-320-THERMO-HYBRID

Thermal Infrared Camera

Sensor

Uncooled Microbolometer (Built in peltier device)

Detected Wavelength

8 - 14um

Effective Pixels

QVGA 320(H) x 240(V)

Pixel Size

23.5(H) x 23.5(V)um

Temperature Range

L RangeF-40`150°C, H RangeF0`540°C

Output

14 bit digital output

Visible Light Camera

Active Pixels

1280(H) x 1024(V)

Optical Format

1/3 inch

Bord lens

f=3.6mm

Common specification

Frame Rate

60fps

Interface

USB2.0 Bulk transfer

Power Supply

DC12V (AC adapter)

Dimension

72(W) x 79(H) x 115.8(D)mm* Lens, cable not included

Ambient Conditions

Operating temperature / Humidity : 0~35°C / 10~80%(Non- condensing)
Storage temperature / Humidity : 0~60°C / 10~95%(Non- condensing)
Working Temperature
20~35°C
Notice: Please have the camera work under suitable environment temperature.

Attached Items

Device driver, Viewer software, AC adapter, USB cable
Software development kit(SDK),IR Lens (Germanium)

OS

Windows XP / Windows VISTA / Windows 7 / Windows 8
*We might change product's specifications without announcement.
Sorry for inconvenience in advance.