ARTRAY Thermo Camera series is equipped with USB2.0/Ethernet interface that
transfers 14 bit high speed raw data collected by microbolometer directly.

【Common Specifications】
Sensor

Dynamic Range

Operabillity

Output

Dynamic Range

Temperature

Accuracy

Running

Tenperature

Uncooled Microbolometer

(Built in peltier device)

8~14μm

23.5μm

>98%

(Defective Pixel Correction)

16msec typ.

14bit digital output

±5%

0~35℃
■Accessories:Device Driver、Viewer Software, AC adapter(DC12V), USB or LAN cable
■Option:SDK(Software Development Kit)
■Optional Lens:IR lens(Germanium)…f=16mm,25mm,35mm,75mm,100mm/Ultra Wide Lens…70°,90°
【Specifications】
Model

Image

Size

Weight

Remarks

USB2.0

≦15sec

71.6(W)x61.5(H)x115.8(D

ARTCAM-320-THERMO-H1200

…High temperture range thermal infrared camera(Up to 1200℃)

320-THERMO-LAN3

(Ethernet)

Ethernet

≦60sec

【LAN port specidications】
Support Standard…IEEE802.3u(100BASE-TX)
LAN port…RJ-45
Standard …100BASE-TX/Full Duplex/Half Duplex
MDI/MDI-X…Autmatic Recognition
Transmission Rate…100Mbps
Protocol…TCP/IP

Hybrid Thermal Camera

320-THERMO-HYBRID

USB2.0

≦15sec

72(W)x79(H)x115.8(D)

【Visible Camera Specifications】
Active Pixels…1280(H)x1024(V)
Optical Format…1/3"
Board Lens…f=3.6mm
Thermal Photo Gallery
Thermal Infrared Camera

Viewer Software

Pandemic-responding detection system capable of finding person infected by influenza without touching the patient.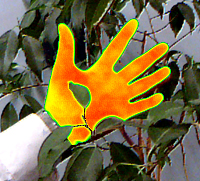 The latest Picture in Picture technology.
Fast temperture measurement - Just one click!